Library
The DTSS Library is a multi-use space designed to support all students' interests through a diverse and current collection of books and technology resources. 
Fully staffed by a teacher librarian and a library technician, our comfortable and vibrant atmosphere makes the library a preferred space for students during classes and breaks. 
Library Hours
8:30 - 3:30 Monday to Thursday
8:30 - 1:30 Friday
​Library Information
Loan Period
2 weeks (renewals welcome!)
​​Late Fees
There are none! You are responsible to return your materials on time or renew. If you do not, you will be required to replace the lost item.

Printing
The student printer/ copier is located in the library. Students begin the year with $3.00 on their printing account. Once a student runs out of money, they need to reload their account at the front office. 
Research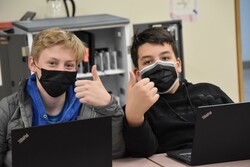 Remember, when you are conducting research, the two most important questions to ask are:
WHAT'S MY QUESTION? 
HOW MUCH DO I KNOW?
Depending on your question and how much you know about your topic will determine which resource is the best one for you to use.
If you know 0-25% of your topic, choose a REFERENCE source.
If you know 25-50% of your topic, choose a BOOK.
If you know 50-75% of your topic, choose a DATABASE from the approved list on this page.
If you know 75-100% of your topic, choose a SEARCH ENGINE like GOOGLE on the INTERNET. Use the SEARCH terms and phrases from your DATABASE searches in yourGOOGLE search. Use what you know about your topic already to weed out useless or wrong information. But first, check the approved Featured Websites located on each page.
0-25% REFERENCE
A REFERENCE could be a print encyclopedia, atlas, dictionary or thesaurus, or a digital source like a database or World Book Online. Here you will learn the basics of your topic, fast facts and vocabulary words that you can use later as search terms.
25-50% BOOK
A BOOK could be a print book, an e-book, a digital textbook, or an audio book. A BOOK in any form is usually more specific than a REFERENCE source. Here you will add details to the basic information you have already learned and begin to connect your basic facts together. Remember, you may have to look in the table of contents or index of the book to find out where information is located specific to your topic.
50-75% DATABASES
DATABASES are organized, searchable sources of information, often available only with a subscription. Beyond that, a database can be anything: images, videos, articles from magazines or videos, or collections of print encyclopedia information. Even though you access them through the INTERNET, DATABASES have more specific information than what you will find just GOOGLING your topic. Here you will find more current information on your topic using the vocabulary words your learned from your REFERENCE and BOOK sources as your SEARCH terms. Ask us for the login and password information so you can access EBSCO at home.
75-100% SEARCH ENGINE
Specialized Search Engines
Featured websites that have been vetted
Online Resources and Databases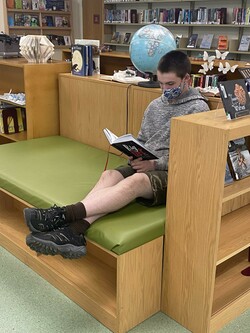 DTSS Library Catalogue
DTSS Library Catalogue
EbscoHost

Canadian Reference Centre
Library, Information Science Technology Abstracts, 
GreenFILE
MasterFILE Premier
Middle Search Plus
Funk & Wagnalls New World Encyclopedia
Primary Search
Consumer Health Complete - EBSCOhos

World Book

​​Encyclopedic Reference for Science, History and World Events. Also includes resource materials for literature and drama.

Gale Virtual Reference Library
Features secondary level ebooks with accessibility features including text to speech and zoom.
Global Issues in Context
​Issues and countries; uses multimedia to explain the historical and current conditions necessary to understand global issues, conflicts and events.
Know BC
​The leading source of British Columbia information. KNOW BC is the home to the Encyclopedia of British Columbia, the definitive reference work on British Columbia. With more than 4,000 entries and 1,500 accompanying photographs, maps, charts and tables, as well as sound and video clips, The EBC is the source of readable and authoritative information on all the significant British Columbian people, places and things.​​
curio.ca
Archived CBC films and publications. Curio.ca gives teachers and students streaming access to the best in educational content from CBC and Radio-Canada.​
ScienceFlix
Offering more than 50 complete units of study with over 8,000 science-related assets in a variety of media, ScienceFlix® provides students with a better understanding of science concepts and ideas through hands-on projects, videos, multiple text types, interactive features and more.
Discovery Education
A digital textbook series, built from scratch for today's learners and current outcomes, engages students with dynamic, multimodal content and an inquiry approach. 
Invermere Public Library
 The DTSS Library staff will help students get registered for a public library card. This will allow students to access resources from across BC, as well as access online resources including Audiobooks, online magazines, government​ resources, and much more! See the public library or high school library for more information. ​​​​