Back to all posts
Posted on
DTSS Student Council organizes school supply drive for Merritt Central Elementary School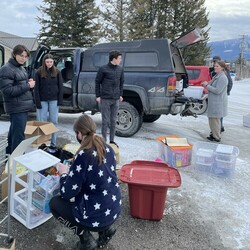 In November 2021, Merritt, BC experienced a catastrophic flood.  Students of Merritt Central Elementary School have not been able to return to their school due to significant flood damage.
The student council at DTSS, in partnership with the Rotary Interact Club, organized a school supply drive.  It was the generosity of the greater community that made the supply drive a success. The donated supplies were recently delivered to Merritt Central Elementary School. 
The District would like to recognize all members of the student council and the Rotary Interact Club for their leadership. In particular, we want to thank Emma Postlethwaite, president of the DTSS students' council, for initiating, organizing, and following through this project.  
https://www.merrittherald.com/invermere-aids-central-elementary-school/